Applications are now being accepted at ONDARTE Artist Residency Program in Akumal, Mexico. ONDARTE was born from the desire to support international artists and promote cultural exchange between creators from all walks of life. Alec Von Bargen, the founder of ONDARTE, is an artist. Maribel Bianchi, the residency director is an artist at heart who has been surrounded by art and artists her entire life.
The new ONDARTE Artist Residence offers a pristine environment in the heart of the Riviera Maya, perfect for the interaction of artists with nature. ONDARTE'S grounds are spread out over 2 hectares. The area is comprised of the living quarters, open-air working areas, temperature controlled storage rooms, a communal kitchen/dining area and tranquil relaxation areas set around the swimming pool and tropical gardens. Artists have full access to the grounds so that they may create wherever they feel inspired. The facility has furnished suites for the artists in residence, all with private bathrooms and work desks for artists who require a more private area to complete their endeavors. Every effort is made to support the unique creative processes of the residents.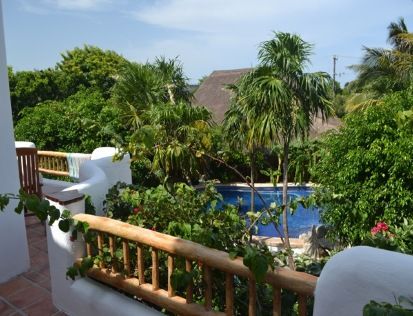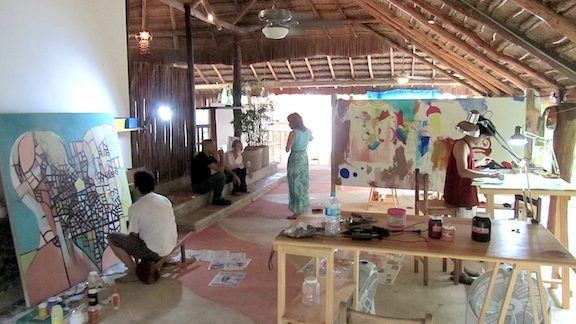 ONDARTE is located in the small town of Akumal, between the Caribbean Sea and Yal Ku lagoon. Akumal has always been a creative haven where people come to live in harmony with nature and art. ONDARTE, along with other initiatives in Akumal, is focused on preserving the natural beauty of the Riviera Maya while responsibly sharing its creative voice with the rest of the world.
Once a month ONDARTE hosts an open house to which local artists and the members of the surrounding communities are invited in order to further promote the cultural exchange between the artists and their adopted home. Opportunities can also be arranged for artists in residence to work with local artists, artisans or craftspeople. Participants who are interested in leading art classes for young children of the area are encouraged to do so and these classes can be set up by ONDARTE organizers.
If you are an artist or know an artist who would like to take advantage of this unique residency program, please send submission materials to ondarte[at]ondarteresidency.com. Included should be:


1. Bio / CV 
2. Examples of recent work 
3. Intended project during residency 
4. Link to website (if applicable)


A jury of local and international experts in their fields decide on the acceptance of the applicants. Only submissions with complete applications will be considered. The jury meets once/twice a month. Admission consideration is continuous. The applicant will be notified within two-three weeks of their sent application. There is a monthly fee of $1000 usd per artist. Upon acceptance, ONDARTE will be more than happy to assist any qualifying applicant with recommendations / invitation letters to help them apply for and secure financial support.
Please visit www.ondarteresidency.com for more information.
Click here to view the original blog post on "Life's a Beach".